BUBBLE SKIN® Blackhead Hydro Facial V.2
BUBBLE SKIN® Blackhead Hydro Facial V.2
70% OFF

Sale Ending Soon

LIVE :

are watching this product !

orders

in process right now

Limited stock of 100 orders
SAY GOODBYE TO BLACKHEADS & SKIN PROBLEMS
BUBBLE SKIN ™

 

is designed to customize your skincare regimen for blackhead and grease removing, pore cleansing, exfoliating, and skin rejuvenation functions. A MAGICAL BEAUTY INSTRUMENT allows you more confidence.

With BUBBLE SKIN ™, You can see the results from the first day of use. It is very easy to use and cares for your skin very well.
THERAPY YOUR SKIN AT HOME WITH EASE
BUBBLE SKIN ™ uses the latest therapeutic Hydro Dermabrasion Technology in skincare. The technology has been around for decades and is commonly used by dermatologists and estheticians as an in-office treatment to help reduce inflammation after facials, minimize breakouts, and give an overall boost. However, in-office treatments cost up to $400 per session which is really too expensive. 
BENEFITS
  Safe & Easy -  Suitable for all skin types, whether dry or oily 100% safe to use for sensitive skin.

  Reduce fine lines and wrinkles by stimulating collagen & elastin production. Restore skin elasticity, giving you a youthful appearance.

  Tone and Tighten Sagging skin - No more double chin or puffy eyes!

  Remove Blackhead, Acne, Grease, Dust miles, and Pores
HOW BUBBLE SKIN™ WORK?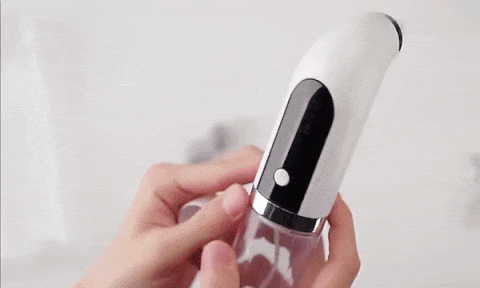 BUBBLE SKIN ™ uses Hydro facial treatment, also known as Hydrodermabrasion is a non-invasive skincare treatment which by :
  Spraying a jet of water

  Exfoliates the skin

  Deeply cleansing the skin

  Removing dead skin cells and improving blood flow

  Stimulating the production of collagen
The dirt and makeup residues are then sucked inside the device. Leaving your skin cleaner than ever, deeply hydrated, firmer, smoother, and healthier looking.

 WHY BUBBLE SKIN™ ?
BUBBLE SKIN ™ has gone popular lately. A lot of celebrities and influencers are paying hundreds to get hydro treatment professionally done. With BUBBLE SKIN ™, You can now take big advantage of this professional therapy in your home and gain younger, and brighter-looking skin that will irresistibly draw all eyes on you.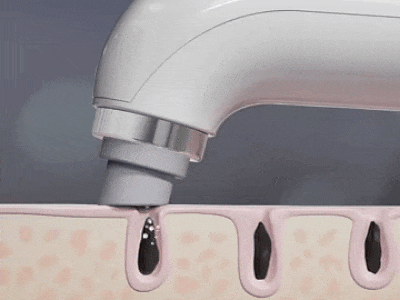 PERFECT FOR SENSITIVE SKIN
BUBBLE SKIN ™ is the best way to exfoliate for sensitive skin types and does not irritate the skin. People with more sensitive skin types that might not be able to handle the harshness of heavy exfoliation will love this gentler option.